NTCM's participation in EU Parliament Conference  (Social Media-Industry censorship or consumer rights?)
Organized by:
ALDE (Alliance of Liberals and Democrats for Europe) Party.
Tuesday, 10 January 2017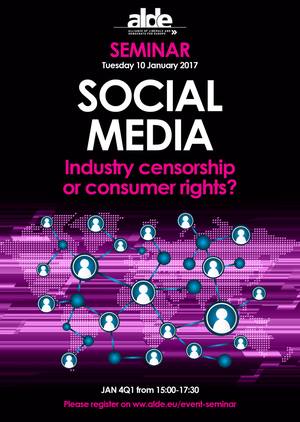 Mr. Arshad the President of NTCM took part in the conference.
The conference was chaired by honorable MEP Morten LØkkegaard of ALDE Party.
Key speakers were:
Thomas Myrup Kristsensen Managing Director for EU Affairs and head of Facebook's Brussels office,
Espen Egil Hansen the Editor in Chief and CEO of the Norwegian newapaper Aftenposten.
Ms Jillian C. York writer and activist the Director of International Freedom of Expression at the Electronic Frontier Foundation.
Social Media platforms like Twitter and Facebook are increasingly replacing traditional news sources such as newspapers, radio or television. As such, they often act as "editors in chief", sometimes censoring certain articles, texts or pictures and deleting these posts, due to the platform's policy on moral appropriateness.
Against the backdrop that user empowerment on social media platforms is key to the success of the Digital Single Market, the ALDE seminar "Social Media − Industry censorship or consumer rights?" Addressed this issue and aims to provide possible solutions on how to protect users' rights to make updates and post pictures on social media while respecting the law. The conference enabled a high political-level discussion and brought together representatives from politics, journalism, and the Social Media sector and anti-terrorists-Cults activists such as NTCM (No to Terrorisms and Cults Movement).
Part of Mr. Arshad's speech:
Mr. Chairman, Ladies and Gentlemen of the panel, I would like to thank ALDE Party for organizing this conference and express my gratitude for Mr. Thomas M. Kristensen Head of Facebook in Brussels Office for his presence and explanations and hearing our huge concern  over the abuse of media and global platforms by terrorists.
First of all I would like to emphasize that no one can deny the huge impact of the social media such as Facebook and …on the connectivity of the people around the world and also helping organize revolutions to bring down dictators in our parts of the world.
Ladies and Gentlemen what I would like to bring to the attention of the conference and the people of the Global Platforms present here such as Facebook and U-Tube … is that unfortunately the terrorist-cult groups such as
MEK, ISIS, Taliban … also use social media and Global Platforms in order to promote their evil goals and recruit extremists coordinate their killing innocent people and pursue their goals in order to destroy our civilization and commit crime and create terror all around the world.
Media is also abused to create hate speeches by ISIS and MEK and others, for instance Masoud Rajavi the religious leader of the MEK has  hours of hate speeches on the internet ordering his brainwashed followers to kill all his opponents and calling to bring down the west when its time arrives.
We and the Global community have a history of challenging such broad based issues in Germany after the downfall of fascism of Hitler that any promotion of fascism is constitutionally forbidden. We must and we can forbid MEK with its Headquarter in Paris from abusing internet in promotion of terrorism. We must have rules and regulations to enforce such controls.