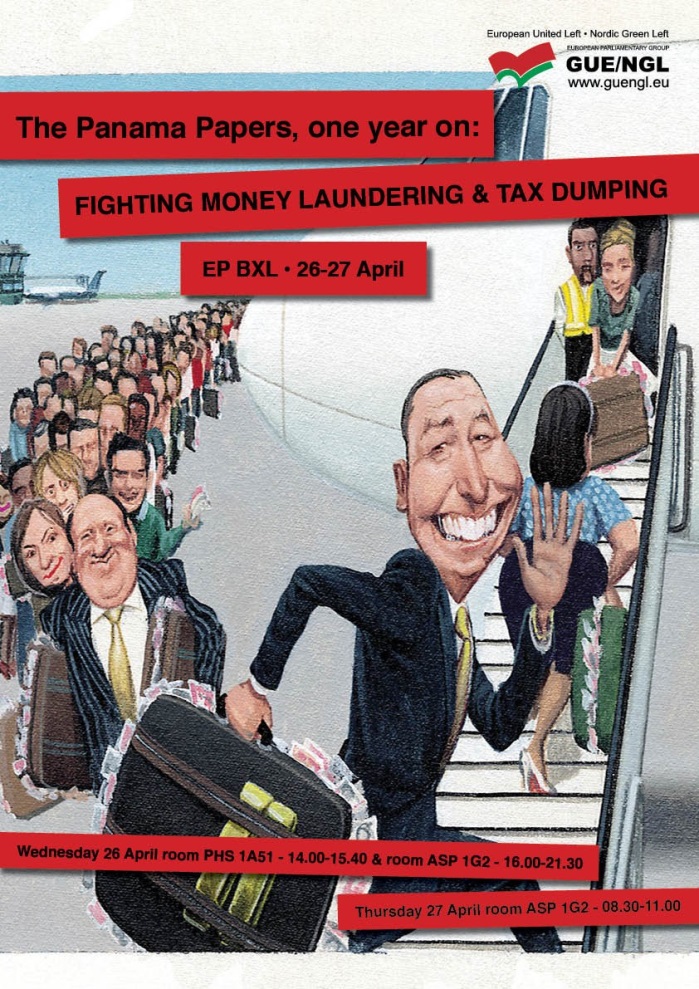 NTCM an anti terrorist movement took part in the EU Conference in Brussels.
On behalf of NTCM Mr. Arshad and Mr. Hossein Nejad ex-high ranking members of a terrorist cult group Mek, took part in the conference and shared their experience of terrorists living on money Laundry and criminal economic activities.
The two days conference on April 26 – April 27 by the GUE/NGL MEPs who are working together on the European Parliament's committee of inquiry into the Panama Papers revelations. As part of this work, they organizes a conference to discuss the growing international movement against tax havens, and the key policy challenges and its serious ties with terrorism we face in Europe.
This conference takes place one year after the Panama Papers revelations and takes stock of progress achieved so far and challenges ahead.
Mr. Arshad the chairman of NTCM had a speech addressing terrorism and its bounds with Money Laundeing.
I am Davood Arshad Chairman of NTCM and ex-member of a terrorist org. called MEK led by Maryam Rajavi.
It is has been known for long that Terrorism heavily relies on money laundering and criminal business activities.
Organized crime needs money laundering like man needs oxygen. Serious ties unite organized crime and terrorism. A sort of objective alliance forms between criminal and terrorists groups.
Criminal organizations benefit from the ability of terrorist organizations to do damage, while the latter in turn benefit from the financing that criminal activities can obtain for them.
The Sources of Terrorism Financing Criminal activities are today an increasingly more important part of the terrorist economy, and these activities vary according to the terrorist organizations concerned.
The criminal activity that provides by far the largest funding for terrorism is drug trafficking and recently in the Middle East Oil trafficking as in case of ISIS and Mek (peoples Mojahendin Organization of Iran).
Mek led by Maryam and Masoud Rajavi a so called Iranian opposition which I had been its high ranking member for 3 decades was deeply involved in terrorism and money laundering in order to survive.
Mek organized false children's Charities such as Iran Aid which again I was one its two trustees in London, collected millions of Pounds and Euros throughout Europe which was transferred to Paris into the safes of Maryam Rajavi.
Maryam and Masoud Rajavi also apart from selling Mek to Saadam Hossein of Iraq, gained hundreds of millions of dirty Dollars when were involved in selling Saddam Hussein's oil in the black market for him during Iraq's international embargo. In return Mek involved in suppressing Kurdish people by mass killings of Kurdish people during Kurd's uprising in Tuz Khormato in Iraq.
No need to say that the fight against money laundering is not just an economic issue in the world but it is what is threating  the entity of our society and civilization it is the point that the left and the right can unite on it. Simply because it not something that the rich would like to be indifferent towards money laundering. If we do not fight against money laundering we are bound to lose everything. While money laundering is the life line of terrorism that exists in our society. Especially that with huge amount of money gained by the terrorists like MeK, ISIS and Boko Harm …they can hire politicians to support them. unfortunately We are can even see  that terrorists heads such as Maryam Rajavi even is invited to EU Parliament.
As far as there are terrorists operating within our societies we are bound to have money laundering which keeps them terrorizing us and vice versa.
Thank you.
Some references to Terrorists paying to be supported by the Politicians:
The Guardian of UK
Terrorist MEK Cult decision: multimillion-dollar campaign led to removal from terror list
https://www.theguardian.com/world/2012/sep/21/iran-mek-group-removed-us-terrorism-list
The Independent of UK
Donald Trump Cabinet pick Elaine Chao was paid by 'cult-like' Iranian exile group that killed Americans
http://www.independent.co.uk/news/world/middle-east/donald-trump-elaine-chao-cabinet-iran-mek-a7563746.html
The Huffingtonpost of USA
Mujahideen-e Khalq: Former U.S. Officials Make Millions Advocating For Terrorist Organization
http://www.huffingtonpost.com/2011/08/08/mek-lobbying_n_913233.html
The International Business Times
MEK Pays US Officials, But Where Do The Iranian Exiles Get Their Money?
http://www.ibtimes.com/mek-pays-us-officials-where-do-iranian-exiles-get-their-money-214388
The New York Times
U.S. Supporters of Iranian Group Face Scrutiny
http://www.nytimes.com/2012/03/13/us/us-supporters-of-iranian-group-mek-face-scrutiny.html