an
On the morning of 25 October 2013, Yvonne Hall and Gerard Stocks, a married couple who run the Palm Cove Society, a charity that supports victims of slavery, found themselves outside a house in a quiet street in Brixton, south London. To the onlooker, it might have seemed as if they had only the trees and railings for company. In fact, this was not the case. Arranged at a discreet distance were half a dozen plain-clothes police officers. The situation was like a scene from a film. The rendezvous had been carefully planned. They had taken up their positions at 11.05am. At 11.15am sharp, two women would emerge from a property trailing their shopping trolleys – unless, of course, the whole thing was an elaborate hoax.
The minutes ticked by with agonising slowness. But at the appointed hour precisely, a door did indeed open, and two women appeared, with trolleys. "They'd described what they would be wearing," says Hall. "And as soon as I saw them, I knew it was all true." Having embraced them – Hall is as warm and reassuring a person as you could hope to meet – she and Stocks took the women to a place of safety, and there, they stuttered through their story. It was the older of the pair, 57-year-old Josephine Herivel, who had made the initial call, dialling a helpline number she had memorised after hearing it on television. The younger woman, who is now known as Katy Morgan-Davies and who was then 30, explained that she had been held captive in Peckford Place and a series of other south London properties from birth. The man responsible for this, they said, was 73-year-old Aravindan Balakrishnan, whom they knew as Comrade B or Bala, the leader of the Workers' Institute of Marxism-Leninism-Mao Zedong Thought, AKA the collective, an organisation with which Herivel had been involved since 1978. They also revealed, increasingly anxious now, that a third woman, 69-year-old Aisha Wahab, remained inside the property. When they broke for sandwiches, the police therefore headed once again to Peckford Place. When the officers returned, it was with Wahab, to the obvious relief of Herivel and Morgan-Davies. On seeing her, they all but flew across the room.
Hall and Stocks were to take the women to Leeds, where their organisation is based and where supported accommodation had been prepared for them. The journey was bizarre. The women had an odd way of speaking. "One of them would start a sentence," says Stocks. "The second would continue it, and the third would finish it. Their inter-dependence was obvious." Wahab asked about the lights on the cars: why were some red, and others white? When they pulled into a service station, Morgan-Davies's unfamiliarity with the outside world was immediately apparent. "We were five adults," says Hall, "except that we weren't. Katy had no concept of danger: she kept walking in front of cars. Inside, she just stood there in front of the toys and books. 'Oh, wow,' she said. Anything that twinkled caught her eye. It was like being with one of our grandchildren."
What were they thinking? Had they experienced anything like this before? "We've been doing this work for a decade," says Hall. "We've dealt with hundreds of cases. We've seen people who've been captive for 13, even 15 years. But 30? No, never." Three years on, there are still moments when they struggle to believe the extraordinary story which was then only beginning to unfold. How, they wonder, could this have happened in Britain, at a time when privacy, thanks to the internet and CCTV, often seems to belong to the past? "Perhaps we all need to take responsibility," she says, softly. "There's a face at a window, but that person never goes out. We might need to ask ourselves: what is actually going on next door?"
This collective blindness – the unsettling idea that human beings can be hidden in plain sight – lies at the heart of an extraordinary and powerful new film about Balakrishnan and the women he kept prisoner. In the course of making it, its director, Vanessa Engle, interviewed some of those who lived near the collective, a cult by any other name. One, a woman, is blase. She thought they were all refugees, she says with a shrug. But another, a man, bursts into tears when pressed. To think that a child – Katy – was kept prisoner, and he did nothing. Katy's spectral face could, it seems, sometimes be seen at an upstairs window. As she grew older, she would hold up a sign with the words "Help me" written on it. But the Biro letters were too small to be read from the street, and the people below too busy or too reluctant to tackle their peculiar neighbours, whose manner, on the rare occasions they ventured outside, could be so aggressive and forbidding.
Engle began work on her documentary after Balakrishnan's conviction in December 2015 for rape, sexual assault, cruelty and false imprisonment, crimes for which he is now serving a 23-year prison sentence (his wife, Chanda Pattni, whom police had also arrested in 2013, was released without charge). In the days after his trial, Katy Morgan-Davies, newly revealed as his daughter, waived her right to anonymity, and spoke briefly to the press. Then she disappeared, desperate to begin a normal life – in as much as such a thing will ever be possible for her – in Leeds. Now, though, she is breaking cover once again.
As we wait for her to arrive at their offices, I ask Hall and Stocks how Katy is doing. In Engle's film, they likened her ability to perform everyday tasks, at the time of her release, to that of a six- or seven-year-old. "I would say she is still very vulnerable," says Hall. "She has done amazingly well. She has caught up with domestic skills and environmental things. But in terms of making friends, she still struggles." She feels as though she is in a goldfish bowl. Although she can now see the world around her, she cannot connect with anyone in it, save for Aisha (Josie, at first seemingly delighted to be free, has since returned to London, where she is campaigning for Balakrishnan's release). Katy will, they warn me, laugh at some of my questions. I should not mistake this for levity. "If she is embarrassed or nervous, that's what she will do," says Hall. "When she was beaten or denounced by the collective, you see, she had to smile. She wasn't allowed to cry." Have they ever seen her cry? "No. That's something she does… internally."
Shortly after this, Katy arrives. The first thing you notice are her clothes and makeup: she likes bright colours and shiny fabrics, having been deprived of such things for so long. The second is her sing-song voice, her almost broken English; it's hard to believe that she grew up in south London. Her walk, too, is unusual. In the collective, she didn't move much, and as a result, her mobility became severely limited. It's better now, but she remains slow on her feet. Mostly, though, what strikes you is her manner. She has a thousand reasons to be angry, but her rage, if it exists at all, is deeply buried. She is smiling, eager to please. When she rubbishes Balakrishnan and his edicts, I worry this is for my benefit rather than because she has lost her fear of him. Does she still have to remind herself that he cannot touch her now? Perhaps.
Balakrishnan, who arrived in Britain from Singapore in the 60s to study at the LSE, founded his Maoist Institute in 1976, on Acre Lane, Brixton. It was, by all accounts, a tiny and somewhat ludicrous operation – its role was to prepare the British population for "liberation" by the Chinese – and was thus regarded with amusement by the other leftist groups who handed out leaflets in the area. Its followers were mostly fellow students, and included Bala's Tanzanian wife, Chanda, and her disabled sister, Shobna; Josephine Herivel, a talented violinist from Belfast whose father, John Herivel, was one of the Bletchley Park scientists who helped to break the Nazis' Enigma code; Aisha Wahab, who had come to London from Malaysia at 24 to study quantity surveying; and Sian Davies, a postgraduate law student and old girl of Cheltenham ladies college. What these women had in common, apart from their intelligence and bright futures, was a certain vulnerability. They were far from home; they had family troubles; they were lonely.
In the late 70s, the institute was raided by the police, using a warrant under the Misuse of Drugs Act. Bala saw this as persecution, and by 1980, he and his followers (his wife, sister-in-law and seven other women) had effectively gone into hiding. Once the group was isolated – they survived, once Sian's money had run out, on the allowance Chanda received from the state as her sister's carer – it was easier for him to dominate them. He was, he told them, God. He controlled the world outside, he was immortal, and they should obey him if they did not want to die. His orders extended to sexual acts. His means of controlling the world was a machine called Jackie (an acronym for Jehovah, Allah, Christ, Krishna, and Immortal Easwaran). Everything that went on outside could be used to prove the power of Bala and Jackie. When the American space shuttle Challenger blew up in 1986, for instance, it was a sign: people were challenging him. Aisha, who now lives in sheltered housing, continues to be terrified of Jackie. When Malaysian Airlines flight 370 went down in 2014, she saw its loss as a message from Bala. She also believes he was responsible for the 2015 Paris attacks.
In 1983, the collective embarked on a new experiment: Project Prem. Although she denied it to the other women, Sian Davies had fallen pregnant by Balakrishnan. The child, who was named Prem Maopinduzi, a combination of Hindi and Swahili meaning Love Revolution, would never know the identity of her parents; Bala told her she was a foundling. She would be brought up by the collective as his "soldier". Ultimately, he would hand over control of the world to her, a process that would begin with Brazil, which she would, when the time was right, run first. Prem, of course, was Katy, and this was the nightmare into which she born. No one ever cuddled her. Balakrishnan forbade it. Nor was she allowed to see a doctor or a dentist (they should leave their teeth to fall out; when they were 100, new ones would grow). She did not attend school, though someone – she cannot remember who – did teach her to read and write. She was 19 before she was allowed to watch television. She didn't, as future world leader, have to perform domestic chores. But she was beaten "all the time" by Bala, and by the other women, his enforcers. The meanest of these enforcers was Sian.
Katy struggles to describe what freedom feels like, perhaps because, as she puts it, half of her expects to wake up and find herself back in "the Dark Tower". We talk about the small things that give her joy, among them the fact that she is allowed to open her front door herself, but her tone is desultory. In a strange way, she finds it easier to discuss the bad times. Did she ever, I ask, wonder who her parents were? "I did," she says. "Once, they showed me my birth certificate. It said Sian's name under 'mother', but they said this was only because she'd been the one who found me." What was her relationship with Sian like? (In Engle's film, a schoolfriend who last saw Davies as a student recalls how the real Sian disappeared, only to be replaced by a zombie Maoist with whom it was impossible to communicate.) Her eyes widen. "Oh, she was a bully, his number one lieutenant. Anything that went against his rules, she would tell him. She would get people into trouble, and she did that to me most because she was trying to prove she was not attached to me. She was saying: Bala is my first loyalty, and I'll snitch on my daughter and get her beaten up if necessary."
When she was 13, however, everything changed. One night in December, 1996, Katy heard shouting. Getting out of bed to find out what was going on, it became apparent that Sian had tried to stab herself. On Christmas Eve, she heard more shouting. This time, Sian was on the floor, her hands tied and her mouth gagged. Bala and Chanda were shouting at her. It seemed she had attempted to escape. Later that night, Sian "fell" from an upstairs window. Paralysed, she died in hospital six months later. At the inquest into her death, Aisha told the court she had no children. The coroner recorded an open verdict.
Katy feels differently about Sian's death now. Having met her mother's family – cousins who didn't know of her existence until 2013 – she understands that it was Bala who made her behave as she did, that she was "a nice person" before he came along. But at the time, she couldn't help feeling relieved. Her tormentor was gone. What about Bala? Was he sad? "No. His sadness was just: 'Oh, Sian's not here to make phone calls for me.'"
In 2001, another woman in the collective, Oh Kareng, died, after hitting her head on the edge of a kitchen cabinet. Did Katy link the deaths of these two relatively young women? "Well, Bala used to say that they died because they hadn't listened to him." What did she think? "That they died of neglect. Sian had lost her mind. She needed help. I told everyone to hide the knives and scissors. And Oh had been having pains in her head, giddiness and tiredness, and he wouldn't let her see a doctor. He had no shame or conscience."
Life inside the collective, for the teenage Katy at least, was now a little better. But it was boring. She looked forward to the clocks changing; at least the hour's difference made the days seem different. Sometimes, she would find herself talking to the taps and the lavatory in the bathroom; when the water ran hot, or the flush worked, she would kiss them, a thank you for being on her side. "Reading and writing was the main thing I did," she says. "Bala used to buy loads of books and stack them high because he wanted to impress his followers. They were clever books about grand things like philosophy, psychology and medicine. He never used to touch them, but I used to read them." The only children's books available to her were from China – they promoted the teachings of Chairman Mao – and The Lord of the Rings and Harry Potter stories (Bala identified with both Potter and Tolkein's Aragorn, the lost heir to the throne of Gondor – though, as Katy points out, the characters he really resembled were Voldemort and Sauron). The Lord of the Rings, which Katy would read aloud to Josie and Aisha again and again, remains her favourite book.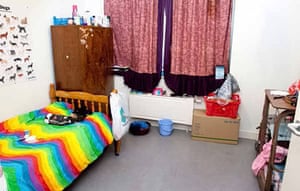 Writing was a way of life in the collective: everything was documented by Bala, from meal times to bowel movements; hand-written rotas were attached to cupboard doors. Katy, though, wrote poetry and stories and, when Bala permitted her to watch television, described the girlish crushes she had "on people of whom he disapproved". Where did she hide her writing? "In plain sight," she says. Having been so well hidden herself, such a strategy came easily.
What about the evenings? After the interminable stretch of another endless day, they were longed for – and yet dreaded, too. The television was in Bala's room, and at six o'clock the remaining members of the collective – just the five of them, now – would troop in for the news. "That would be interspersed with shouting at commentators. I remember the 20th anniversary of the massacre in Tiananmen Square. Bala was so angry, because he thought what China had done [to the democracy campaigners] was correct. It was the kind of power he wanted himself. He said he wished 3 million people had been killed." Furtively, she looked around the room. "Everyone was nodding. I was thinking: what? Mad people! I used to curse under my breath, and then, if he came up to me, I would say I had a cough." Was she frightened of him at these moments? "You do feel scared if someone is shouting like a lunatic. But at the same time, I was growing a hatred and contempt for the nonsense he was propagating." Writing her own schedule, she would deliberately make it sound silly. "'Six o'clock,' I'd write. 'News, plus verbal diarrhoea.' It was almost funny."
Her doubts about Balakrishnan and his powers were beginning to grow. "He said bad things would happen if you doubted – that you would spontaneously combust. But then I did doubt, and nothing bad happened."
She can count on her fingers the number of times she was allowed outside. "They would get me out when people from the council came round, or when Chanda's relatives visited. Aisha and Josie would take me. I used to want to be a train driver because, on those occasions, we used to go by tube, and I loved it." In 2005, when she was 22, she attempted to run away, slipping out of a back door. But having never been out alone, she was immediately disoriented. A stranger advised her to go to the police station, where Balakrishnan soon arrived to collect her. After this, her spirits sagged yet further. She could look at her face in the mirror; she could write her thoughts, wicked or otherwise, on the page. But she was essentially a non-person, an outline of a human being: "Bala told everyone that if anyone came to the house asking for me, they were to say: there's no such person here." By now, she'd forced Aisha to tell her the identity of her mother. "I remember dreaming that my grandmother would come and pick me up," she says. "I used to get on my knees and pray about that." It would never happen, but just imagining it made her feel a little better.
Freedom, Katy insists, is "the best feeling in the world". But there is no denying that it has brought with it insurmountable loss. Having resolved that she wanted Balakrishnan to be prosecuted, she came to understand, too, that she could no longer live with Aisha and Josie. After all, had they not conspired with Bala to keep her captive, she would have met that longed-for grandmother, a woman who, she now discovered, died in 2003. Josie, who in the absence of Bala had assumed the role of leader, did not like either of these decisions. Her behaviour began to change. Jackie, she said, was reporting everything back to Bala. Insisting that the "fascist state" was recording her conversations, she refused to talk to Hall and Stocks, communicating instead via a blackboard. During Balakrishnan's trial, she blanked Aisha and Katy, and when it was over, she returned to live in London, convinced she had witnessed a miscarriage of justice.
How does Katy feel about Aisha and Josie now? Thinking back to what Stocks told me about the way they talked in the car, it must be as though she has lost a limb. "Well, I spend quite a lot of time with Aisha," she says. "We watch Coronation Street together." What about Josie, who saved her life? (In 2013, Herivel called the helpline because Katy had lost so much weight; had she hesitated, doctors believe, Katy's undiagnosed diabetes would have gone on to kill her.) "Sometimes, I miss her. But she has made it clear she doesn't want to know me any more. Bala has filled her with poison about me." What about her campaign to clear his name? "She's entitled to her opinions, but I believe she is deluded. In the flat in Leeds, she did once say: 'My mind is not free, and I have to hold on to that if I do not want to lose my sanity.' If she doesn't hold on to it, she will have to admit that she wasted years of her life. She wants to serve her abusers. Her dream now is to go back and serve Chanda, who treated her worse than a dog. I feel sad for her, because she is a good person underneath."
And Bala? This is complicated. He was the sun around which her world revolved for 30 years. "I don't like it that he is in prison," she says. "That's not what I wanted. I suppose he had to be convicted, but I didn't want him to spend that long in prison. He put me in prison, then I put him in prison, and that feels wrong. It feels like petty revenge, which I don't believe in." During the trial, Josie brought a message from Bala which said that he hated her more than anyone in the world. "In the past, I would have been devastated," she says. "But he can't hurt me any more." Can this be true? I don't think it is – and sure enough, in the next moment, she tells me that although she hasn't written to Balakrishnan in prison, this is because he has to make the first move. In Engle's film, she is more explicit, saying that she hopes to "reconcile" with him in the future.
How far she has come. She has her own flat; she is at college, catching up on maths and English; she has joined the Labour party; she thinks of being a counsellor, to help others similarly traumatised. But life isn't easy. Her health is poor. She remains – these are her words – "introverted" and "awkward". Worst of all, there are the shadows. They will rise up. Not so long ago, Hall and Stocks, to whom she is devoted, were in a long meeting. When they came out of it, Hall looked at her phone, only to see that she had 40 missed calls from Katy. Those who are raised in terror face a lifelong struggle to live in peace.