Tuesday, November 27, 2018 | Dagens Næringsliv Roald Næss is a former ambassador in Teheran
Norwiagen Dagens Næringslivon Newspaper on 27.11.2018 published an article by Mr. Roald Sturla Naess ex-ambassador to Iran.
Since it was a very highly informative, deeply understood, thorough and influential analytical article published about Issues concerning Iran and an extremist Iranian Organization (Mek-PMOI) which we have served as a high ranking member and also member of its so called NCRI for more than 3 decades. We share it with our readers.
The sanctions against Iran can end with war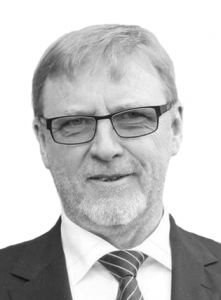 For the Iranian regime, its own people are the greatest danger, not the US.
How long can it be to knock down any attempt at rebellion?
What do Americans want to do with sanctions against Iran – to force Iran back to the negotiating table?
Would the US want Iran to resume its empty program and use it as a pretext to go to war and rule the regime? Or do they want to contribute to the geopolitical conflicts in the region continuing with an economically and politically weakened Iran? If the Americans want to force Iran to enter into an improved nuclear agreement, they clearly lack knowledge of Iranian culture and pride.
Iran has lived with sanctions for decades and will not negotiate from weakness or threats. The regime in Iran will also not accept the demands made by the United States. The big uncertainty now is whether Iran will respect the nuclear agreement.
Here, the ability of the other contracting parties to fulfill their obligations will be crucial. The greatest uncertainty is related to what room for maneuver Germany, France, Britain and the rest of the EU now have. The sanctions indicate that this space is very small.
If Iran withdraws from the agreement, the threat scenario and security situation seen from Tehran will probably mean that the country will resume its nuclear program. In that case, war rhetoric, which both President Trump, Foreign Minister Mike Pompeo and National Security Adviser John Bolton have long used, opens up for military action.
A military attack is unlikely to receive international support from the UN Security Council. Should the US still carry out a military attack, Iran will come up with a reaction that could lead to one dangerous escalation of the conflict.
The consequences can at worst be worse than in the wars in neighboring Afghanistan, Iraq and Syria together. A regime change in Iran staged by the United States, on the other hand, will not be as easy to put in place as in 1953, when a British-American operation managed to remove the democratically elected Prime Minister Mossadeq and deploy the authoritarian Shah Pahlavi.
At that time, the US received support from Iranian military forces. Today, they cannot count on such support. At that time, the power relations in both the region and the world were completely different from today.
It is well known by the Iranian people that the United States has close contact with the exilian resistance group MEK (Mojahedin-e-Khalq Organization). It was created by leftist students in Iran in 1965 and worked to overthrow the authoritarian Shah Pahlavi.
They lost in the fight against Khomeini's followers after the evolution in 1979, were expelled to Iraq and fought with Saddam Hussein during the Iraq war against Iran in the 1980s.
After that, they have minimal support and are strongly displeased by the Iranian population.
Indications that the resistance group is currently being financed by Saudi Arabia and working closely with Iran's enemies also contribute to the resistance group lacking legitimacy within the Iranian population.
Although much of the population of Iran wants reforms and governance other than today's authoritarian regime, they see a new US coup and deployment of MEK as a worse alternative than today's regime.
MEK has long been on the US terrorist list, but today has significant influence in the most conservative communities in the United States.
Both Foreign Minister Pompeo and national security adviser Bolton have close contact with MEK and the leader Maryam Rajavi.
Both have attended the organization's meetings and Bolton has even stated that the Trump administration supports MEK's goal of an early regime change in Iran, and that MEK was a good alternative. This suggests that the United States does not envisage a renegotiated nuclear agreement and that it is only a matter of when war rhetoric will be put into action.
If Iran sticks to the nuclear agreement, it will be more difficult for the United States to carry out military actions. The sanctions will have major economic consequences for the people of Iran.
It is not a given that the authorities in the long run are able to explain the difficult situation of referring to the United States and the sanctions. Earlier sanctions have led the elite, especially the clergy and the Revolutionary Guard, to come out of it well and even strengthen their economic power.
Much of this is due to smuggling, the black economy and corruption. Although corruption is both well-known and recognized in Iran, people's dissatisfaction may nevertheless be directed towards the enormous economic differences that corruption causes. There will be a greater danger for the regime if the country's own population rises to battle than if foreign forces infiltrate the country.
But the authorities have so far managed to knock down all attempts at rebellion. The question is how long they will succeed.
Roald Næss, former ambassador to Tehran
Letter of Ex-NCRI member to Mr. Roald Sturla Næss ex-ambassador of Norway to Iran in support of his views about Mek
Dear Mr. Roald Sturla Næss
I am Davood B. Arshad a UK educated Civil Engineer who was recruited by Mek while I was a university student in England in 1977.
I have recently read your very highly informative, deeply understood, thorough and influential analytical article published in Dagens Næringslivon on 27.11.2018 about an extremist Iranian Organization (Mek-PMOI) which I have served as a high ranking member and also member of its so called NCRI for more than 3 decades. no need to say that NCRI coupled with Maryam Rajavi's soft language are the show window of Mek to hide its extremism towards contemporary human's civilization, which has not only been able to convince Iranians but had little effect in Europe the last trench defending democracy and human rights…
Your honor,
I must admit that one very rarely comes across a factual political-social analyses about Mek that are not influenced by the Mek's highly financed propaganda machine, or their very highly paid lobbies that paves the ground to overlook the real nature of Mek. That's why as an insider to Mek with long years of involvement in its international propaganda machine, found your article very highly principled and genuine. Mek, to my experience, full forcedly goes against the authors of any article, critic of them, to force them to retreat from their principles by taking their conscience hostage, and your daring article must have been on the top of their agenda. Mek's well known tactic is branding any critic no matter who the person might be "an agent of the Iranian regime". The tactic that is even being used against members inside Mek. Which is the only answer of Mek to the critics.
Your honor,
Let me add that, 2018 was a year of hundreds of reports on Mek, a darling of Washington Conservatives which has set up what critics such as Retired Colonel Ylli Zyla, a former Albanian counter-terror and intelligence official that has become an MEK watcher describe as "a state within a state" inside Albania and their Mafia like atrocities against its dissident members as well as against the people of Albania, that not only shocked the Albanians but also caused great embarrassment for the Mek leader Maryam Rajavi and her guardian, "the US embassy" in Tirana.
Shocking Reports not only by almost all Albanian media but by even English Independent newspaper and also Channel 4 TV reporters each from a different angel, reported that:
"MEK are behaving in Albania like a mafia – breaking laws, blackmailing, paying people off, beating people, threatening defectors, accusing anyone who questions them of being an Iranian agent and controlling their members in the camp through Stalinist totalitarian methods and yet call themselves democrats that are in Albania to take democracy to Iran."
Members or rather ex-members like me who have been educated in Europe were exploited in order to deceive the West about the real nature of MEK. Mek in the last four decades that has been cut off from Iranian society due to their terrorism inside their country, collaboration with the Iraq's ruler Saddam Hossein, has learned how to deceive journalists, individuals, and uninformed politicians by staging shows to white wash their real nature and cultic behavior of cutting all members from outside world including from their children, parents, brothers and sisters ,…
These children are controlled by a group of Mek assassins that long before the present regime was established, have been in the business of assassinating US officials that before supporting Mek used to support the Shah of Iran.
The big questions are, why when you talk to these people inside MEK (of course at the presence of controlling members) they look so dedicated, so determined, so enthusiastic towards their well-orchestrated propaganda of defending democracy and freedom, but such determination does not buy them enough credit so that Maryam Rajavi would allow them to meet with people outside their cult, their families, a journalist, … alone. On the other hand, why Maryam Rajavi is so determined to hide such members?!! Why force them to be separated from their loved ones (from wife or husband and even their children)? How do they justify their full support for Sept 11 barbaric act, which when I objected to Mek's support and demanded leaving Mek, was sentenced to 10 years of imprisonment.
Your honor
I will be more than glad to put at your possession all my thirty years of inside experience about Mek.
Sincerely yours
Davood B. Arshad
Germany
Copies:
Dagens Næringslivon Newspaper editor in Chief
—————————
Who is Davood Baghervand Arshad Critic of the Mek
Mr. Davood Baghervand Arshad
An Ex-high ranking member of Mujahedin-e Khalq (Mek) and National Council of Resistance of Iran (NCRI) for 30years, and present Human Rights activist and president of No to Terrorism and Cults Movement Association (NTCM).
Date of Birth: December 12, 1956
Place of Birth: Tehran, Iran
Education:
Primary and High school Tehran Iran.(1972-1974)
A-Levels, Bolton Institute of Technology, Bolton-England (1974-1976)
Civil Engineer, Leeds Metropolitan University, Leeds-England (1976-1980)

Youth:
Mr. Arshad finished his high school in Tehran and was sent to UK by his family in Sept. 1974 for further education.
Political Activities at the Shah's Era:
Mek (Mujahedin-e Khalq, MEK) or the People's Mujahidin Organization of Iran (PMOI) posing as a freedom fighter recruited Mr. Arshad in 1977 while he was a young student with love and passion for freedom and democracy for his country at the Shah's time.
Positions in Mek
Mr. Arshad was:
• Co-founder and head of "the Iranian Students abroad" (A student organization supporting Mek outside Iran) based in London. (1977-1982)
•  Head of Mek's Turkish branch (1982 to 1983)
•  Head of Mek's Pakistan branch (1983-1985)
•  Head of Operations Headquarters office of MEK in Iraq (1985 to 1986)
Present at the Mek's meeting with Yasser Arafat in Baghdad.
•  Personal bodyguard of Masoud and Maryam Rajavi (1986-1987)
Head of Staff of the Mujahedeen Central Command in Baghdad (1987-1988)
In this year while Mr. Arshad holding deputy central Committee rank, criticize the Leadership for their behavior towards the members and neglecting their basic Human Rights in a letter to Masoud Rajavi hoping to improve the Human Rights behavior of Mek. Masoud Rajavi responds with branding Mr. Arshad "an anti-organizational bourgeois element and sends him to labor camp for criticizing the organization in East of Baghdad. (1988-1991)
Deputy Head of Mek's UK branch when Maryam Rajavi was in France. (1992-1996)
Head and Trustee of Mek's "Iran Aid Charity" in London a fund raising organization in Europe under the guise of helping children without parents in Iran.
Taking part at Maryam Rajavi's meeting with Yasser Arafat in Mandarin Oriental Hyde Park Hotel in London.
Taking part at Maryam Rajavi's meeting with English foreign office officials at Maryam Rajavi's place in London.
Mek's connection person with British security officials in London while Maryam Rajavi was in UK.
Responsible for organizing the Maryam Rajavi's Dortmund gathering.
Head of digitalization of Basra branch of Mek in southern Iraq.
Responsible for organizing Mek's Lyon world cup campaign in France. 1998
Head of Civil Engineering division of Mek in Ashraf Camp. (1998-2001)
Sept 11 and defecting MEK
After Mr. and Mrs. Rajavi's open support for the terrorist September 11 barbaric act Mr. Arshad asked to leave Mek denouncing Mek's support, where he was sentenced to 10 years of imprisonment. Mr. Arshad could only escape after US led coalition took over Iraq and Camp Ashraf where he took refuge in US Army in 2003.
Arshad is now a human rights activist and the president of No to Terrorism and Cults Movement Association (NTCM) based in Cologne Germany.