June 6, 2018
Mr. Davood Arshad Chairman of NTCM tookpart in a conference in EU parliament organized by S&D.
I am Davood Arshad chairman of NTCM an NGO based in Germany that helps victims of extremism in Europe. I was a very young university student in Leeds when I was recruited by an extremist terrorist group called Mek led by Masoud Rajavi and his wife Maryam Rajavi that some of you may know her. I was then taken to Iraq. As my contribution to the conference I would like to add that:
Apart from what caliphate means or what the history of the idea is, for contemporary Muslims it is an ancient irrelevance, only interesting as a voice from a past that is safely consigned to history. It is not a concept that we can interpret and use today. Ancient practices exist in the history of almost every culture.
But Islamist terror groups the world over in order to deceive the people insist that, the history of the caliphate points to a time when Muslims were God-fearing and devout, puritanical and self-disciplined, and always willing to sacrifice their lives in the path of the Calipha chosen by the Allah.
This vision is not simply a nostalgic memory. This ancient past is used to justify the present for certain Islamist terror groups such as Mek of Iran under caliphate of Masoud Rajavi and his wife Maryam Rajavi.
They argue, if they did something in the past, then we should follow their example. No further justification is needed, and even the most apparently cruel and barbaric actions require no further legitimization if they can be shown to be following the examples of such great actions or practices.  And they want to take the whole world down the road into the ancient past.
Masoud Rajavi and his wife Maryam Rajavi  as all other Islamist terror groups the world over, profess the revival of the caliphate, the regime that was installed by Muhammed's righteous successors, to be emulated by all future generations of Muslims".
Apart from what it is in content, its "Brutality difficult for us as contemporary human beings to even imagine, is the modus operandi of Caliphate rules. It calls for a scorched-earth policy against its enemies—which includes Christians, Jews, non-believers and all off shoots of Islam.  To give the conference an example of Caliphate style of leadership as Masoud Rajavi ruled Mek in Iraq and advocates and practice is designed to transfer their followers to Robots that can commit barbarism beyond human imagination to strike fear into the hearts and minds of its opponents and anyone who doesn't stand with them in their strict Sharia code.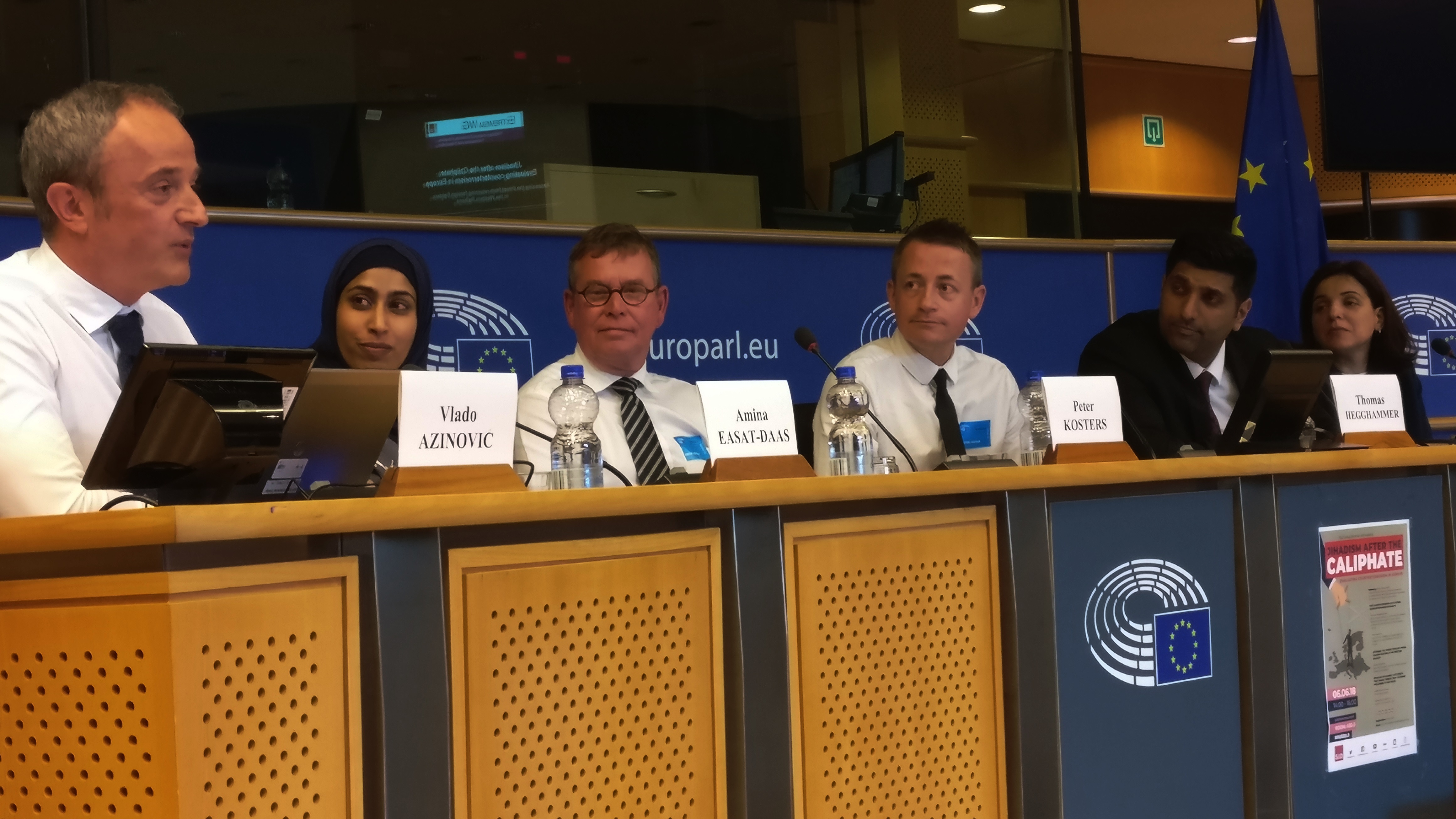 Masoud Rajavi having declared himself as Caliphate in Iraq ordered the divorce all couples under guise of "love is only for God and his Caliphate with that love I can topple the Iranian Regime!!!"
Masoud Rajavi then thinking that the women are still thinking of having a child will bring back the desire of having a husband preferably the ex, ordered the removal of the Womb of the women members.
Later Rajavi called all the women members now considered as Caliphates belongings to marry him. Maryam Rajavi advocated and managed weddings and Harem (where the women of the Caliphate are kept).
Caliphate advocators insist that Calipha as representative of the God owns the life the property and the family of the people on earth.
Based on that Masoud Rajavi ordered self-immolation of 12 members of Mek in Paris and London in 2003 as a suicide warning to French judiciary which as result two died one a 25 years old University student in London and a mother of two in Paris. The rest that survived death suffered extensive burns beyond imagination.
He would send them to suicidal operation just to create martyrs.
I would also agree with the analysis of Mr. Thomas Heggzimmer senior research fellow at the Norwegian Defence Research Establishment that "Organization" plays a vital role for the terrorists to continue their terrorism.  That means despite the blows they receive to their Organization, try to keep it intact and revive it. Masoud Rajavi sacrificed hundreds of its members in Iraq to keep it intact and finally they were transferred to Albanina as an organization.
Mek's existence in Albania is of great security concern for its government and in the EU, because more than 2000 highly trained by the Army of Saddam Hossein are reorganized in Albania.
With regards to fighting terrorist jihadist groups it is worth mention that ISIS is very much easier to fight than Mek, while ISIS is like Trump openly relays his deeds before committing it. While Mek is keeping low profile and hides his barbaric nature by pretending to be other than what it is.
NTCM-Europe