Mr. Davood Arshad's letter to the Albanian Government handed over to Albanian embassy officials in Germany on the participation of the Minister of Immigration of Albania Mr. Pandeli Mijko in Mujahidin-e-Khagq's (Mek) gathering in Villepin-Paris
Dear Albanian Government
I am Mr. Davood Baghervand Arshad a senior and high ranking officials of the Mek (Rajavi Sect) and members of the National Council for Resistance who has been defected from this sect because of its totalitarianism and terrorism.
I was deeply saddened by the news of Mr. Pandeli Mijko, the Minister of immigration affairs of  Albania taking part in Mek's gathering show in Paris.
It is most unfortunate that a terrorist group with well-known mafia tricks can deceive a Minister of a European Government to participate in the showcase of diverse population of refugees gathered from different refugee camps in Europe plus homeless Eastern Europeans, which have been bussed in return for an all-inclusive free three day trip to Paris plus pocket money in order to pretend to have Iranians supporting their gathering with the aim of deceiving and influencing their audience and some already deceived politicians in the gathering as a strongly supported Iranian opposition.
It is also unfortunate to see the extent that Mek if prepared to deceive the Iranians and their audience by insulting their conscience.   This is despite the fact that Mek's dirty trick has been disclosed by the Western media for hundreds of times. One of the last but not least, was the Guardian newspaper Mon 2 Jul 2018, that wrote:
Many in the crowd of about 4,000 that Giuliani was addressing were eastern Europeans bussed in to attend the event in return for a weekend trip to Paris. https://www.theguardian.com/world/2018/jul/02/iran-mek-cult-terrorist-trump-allies-john-bolton-rudy-giuliani
I would like to add that: Mek that Mr. Pandeli Mijko took part in its gathering, committed a terrorist act by beating up two of its critics in front of EU Parliament in Brussels in December 2017 during which Mr. Denis MacShane a former Labour MP was also beaten up by Maryam Rajavi's agents.
The incident raised the EU Parliamentarian's serious concerns to the point that MEP Ana Gomes raised the issue as a barbaric act and a treat to EU and EU MEP members and asked Ms. Mogerini to expel all the MEK's agents from EU Parliament.
English Standard newspaper mentioned the incident as:
https://www.standard.co.uk/news/londoners-diary/londoners-diary-denis-macshane-takes-a-beating-while-being-a-hero-a3713076.html
DON'T mess with Denis MacShane! The former Labor MP, author and Good Samaritan is in Brussels, and says that he stepped in to help a man in a street attack yesterday, only to get a beating himself. "Outside European Parliament thugs from People's Mujahedin of Iran violently attacking elderly man, hitting with sticks, kicks etc," he tweeted yesterday. "I told them to stop it, so they started attacking me with sticks, fists etc. And we weren't even discussing Brexit!"
With regards to the above case and the methods Mek deals with its dissident members in broad day light in front of EU Parliament, would it be difficult to imagine MEK's reaction to the opposition of its members inside their close cult?
Let me also add that the situation of human right abuse in Mek is so grave that even the son of Masoud Rajavi, Mohammad Rajvi one of the victims of this organization having defected MEK announced that will disclose all his father's atrocities.
Does this raise enough concern not to take part in the empty shows of strength of Mek?   
If the above said is not enough, as an ex-high ranking member of Mek and it National Council of Resistance, may I bring to the attention of the honorable Minister of immigration Mr. Pandeli Majko that:
Masoud and Maryam Rajavi hired about 2000 young Iraqis and trained them militarily and ideologically to be utilized throughout Iraq to collect information about coalition forces movements resulting in many deathly attacks on them, also to destabilize Iraq in order to topple the Iraqi government, so the Ex-Baath party leaders active in ISIS could take power in Iraq again, giving Masoud and Maryam Rajavi a free hand as before at the Saddam's time? Mek officers who have been involved in training the 2000 terrorists are present for testimony.
Furthermore Mek created false Arab-Iraqi organizations by paying some villagers anxious for money under total embargo and aftermath of Golf war, to issue and release support communiques about MEK. All these atrocities were of course later disclosed by Iraqi Government officials in the media.
In this regards may I also share with you some of the experience of only two governments that have been very closely dealing with Mek for four decades such as Saudi Arabia and Franc, may that prevent the future backlash of overlooking the nature of MEK in your country by their host country.
The first document is how Saudi Arabia that is a strong financial and political supporter of MEK evaluates Mek.
The translation of the Arabic  WikiLiks document is as follows:
In the Name of God the Merciful
The Head Saudi Intelligence
Ref No. 2113/510-18/12/35
Date: Jan 9, 2012; 15/02/1433
Kingdom of Saudi Arabia
Head of Saudi Intelligence (101)
Confidential Letter
Subject: About Maryam Rajavi
His Royal Highness the Prince, the of Secretary of State
Peace, mercy and blessings be upon you
With regards to the letter of the Prince ref, 51173/2/7 , on 13/02/1433 AH 7/2/50173 (equivalent to the January 7, 2012 AD – Translator),with regards to the message you received from  Dr. Amer al-Tamimi, which in that message, he suggested to arrange a private meeting with Mrs. Maryam Rajavi, President-elect of the Iranian head of MKO in Paris, and following that your Highness demanding the view point of the head of information Organization with regards to this request, we would like to inform His Highness as follows:
With regards to His Highness's question and surprise in relation to the request letter of Dr. Amer Al Tamaimi stating that he is prepared to arrange a meeting with Maryam Rajavi apart from Dr. Saleh AL Motlaq and without his knowledge; the Head of Saudi Intelligence believes that, Dr. Al Tamimi's request means that he is prepared to arrange an independent meeting without the knowledge of Dr. Al Motlaq, because he wishes to keep this meeting a secret and he also bears the responsibility for the meeting, also stating that Dr. Al Motlaq has no knowledge about it.
All the existing information tells us that, the Iranian Intelligence Services has infiltrated the Iranian Mojahedine Khalq Organization (MKO). Also this organization (MKO) has no role and effect in Iranian affairs and has no acceptance within Iran.
The second document is how French government considers Mek.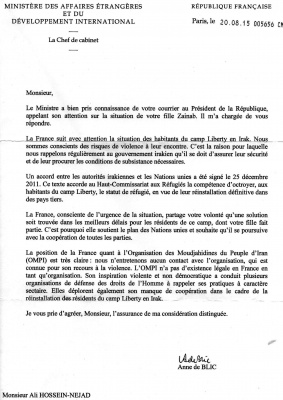 At the end my main concern are our family members and friends still enslaved by Mek in Tirana as the basic human rights to be facilitated the basic needs of free choice, free communications, and contact with parents and family members.
Sincerely yours
Davood Baghervand Arshad
Copy to:
Albanian Embassy
Albanian Embassy France,
Albanian Embassy Belgium
Albanian Embassy Holland
Albanian Embassy England
Albanian Embassy Italy
Albanian Embassy USA
United Nations High Commissioner for Refugees UNHCR Geneva