Thursday, 23 February 2017 00:59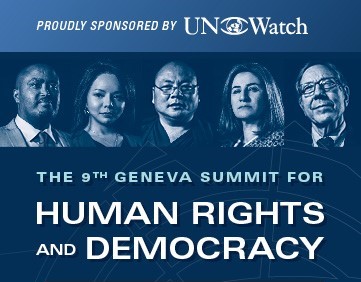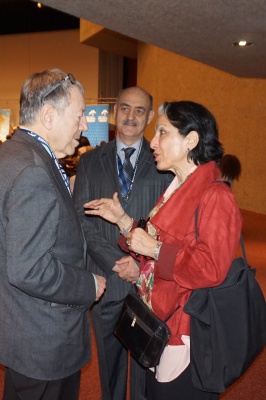 Disclosure of Mek's harsh violations of Human Rights against its members and Iranian People in Human Rights and Democracy Summit in Geneva
Feb 21, 2017, United Nations Center Geneva
No to Terrorism and Cults Movement (NTCM) took part in Human Rights and Democracy 2017 Summit organized by UN Watch.
Dr. Fariba Hachtroudi a French-Iranian journalist and writer also took part with NTCM in the summit. Having taken part in the Summit, Dr. Hachtroudi also had detailed negotiations with Iconic participant such as Mr Irwin Cotler, Chair, Raoul Wallenberg Centre for Human Rights, former Canadian Minister of Justice and MP, advocate for political prisoners. Taghi RahmaniJournalist, former Iranian political prisoner, and husband of jailed human rights activist Narges Mohammadi, Mr. James Jones Emmy-winning documentary-maker, producer of Saudi Arabia Uncovered.
Mr. Arshad chairman of NTCM delivered the following speech in the summit.
Davood Arshad, Chairman of Movement against Abuse of Human Rights by Terrorist Cults and extremism based in Germany.
I would like to thank UN Human Rights Watch for organizing this event and providing the chance for people like me and my colleague Dr Hachtroudi and other honorable participants as victims of Human Right to talk about crimes against humanity and also speak on behalf of those who will never have the chance to talk about it.
There are daily reports of human rights abuses around the globe. But, today I would like to bring to the attention of this precious conference one of the greatest issues of our time that is the protection of human rights in places that not only mostly go unseen but have global devastating consequences.
https://www.facebook.com/genevasummit/videos/10155077080874508/
Ladies and Gentlemen extreme violations of Human Rights are committed by the Terrorist Cultic organizations such as ISIS and Mujahidin e Khalg Iran, Mek, Boko Haram, and other Jihadists.
I am one of the Victims of Mujahidin e Khalg Mek, I was recruited when I was a young student in England, but later, I was sentenced to 10 years of prison for just wanting to leave MEK and criticizing:
Mek's Supporting of September 11 terrorist acts.
Use of mind manipulation techniques to transfer members to Terrorist Gladiators in the hands of the Cult leaders to kill indiscriminately when they wanted either in Paris, Nice, Berlin, Istanbul or cities of Iran….
Using children as suicidal attackers inside Iran such as 13years of age Gohare Adabawaz from Shiraz city.
12 cases of forcing members to commit suicide by setting themselves on fire in streets of London, Paris, and Toronto…by Maryam Rajavi the cult co-leader in order to create terror in the West after the co-leader Maryam Rajavi was arrested in Paris.
Two of them died:
A brainwashed 26 year old young lady, Neda Hassani a university student in Canada died in London.
The English Guardian Wednesday 25 June 2003 wrote:
"She was a Canadian computer science student who loved playing volleyball and listening to classical music. The 26-year-old from Ottawa, who died in hospital after setting herself alight, was described by her parents yesterday as a "brave girl who loved life".
The second victim a brainwashed mother of three children, Sedigeh Mojaveri died in Paris.
Another victim was Mostafa Mohammadi who set himself a flame in front of French Embassy in Toronto, Canada and survived the death, who is now an activist with us against MEK Cultic Terrorism.
Also criticizing Mek for:
Calling members to kill their families when asked by them to leave the MEK.
Arrest, imprisonment, torture and killing of dissident members.
Sexual abuse of the children of their own members within the cult.
Forced divorce of Women from their husband.
Sexual abuse of the above said women by the Leader Masoud Rajavi.
Our request are:
Recognition of barbaric abuse of human rights within the extremists-Cults as a crime against humanity.
Its victims given platforms to be heard.
The leader of terrorist organizations such as Mek leader Maryam Rajavi are condemned as a criminal and her free activities are stopped in Europe and be put to trial.
Thank you
Mr. Taghi Rahmani an Iranian dissent spoke on behalf of his jailed wife Narges Mohammadi, and broadly explained the abuse of Human Rights in Iran.
Dr. Fariba Hachtroudi and Mr. Davood Arshad having sympathized with Mr. Taghi Rahmani briefed him on the extensive abuse of Human Rights in Mek Cult lead by Maryam Rajavi.
———————————————————
Foot Note:
Dr. Farib a Hachtroudi a Journalist, Writer and Human Rights activist is the daughter of Mohsen Hashtroudi, an Iranian mathematician, a professor of humanities and Persian literature. In 1963, Hachtroudi moved to France. She trained as an archaeologist, receiving her doctoral degree in 1978.
Hachtroudi in her journalistic career covered the Iran-Iraq War.Following the Iranian Revolution, Hachtroudi began writing polemics against Khomeini and the religious authorities in Iran. Between 1981-83, she lived in Sri Lanka, teaching at Colombo University.
In 1985, she entered Iran secretly via Baluchistan and travelled around the country, investigating the consequences of the Revolution and the Iran-Iraq war on life in the country. Her first book, L'exilée, describes her experiences.
From 1995, Hachtroudi has led the humanitarian and cultural organization Mohsen Hachtroudi (MoHa), an initiative of which is the Gitanjali Literary Prize.
Hachtroudi's first novel, Iran, les rives du sang, was awarded the French Republic's Human Rights Prize in 2001.[3]
Selected works
Non-fiction
Novels
Poetry
In English translation
Twelfth Iman's a Woman?. Translated by Robyns, Sian. Key Publishing House. 2011.ISBN 9781926780054.
The Man Who Snapped His Fingers. Translated by Anderson, Alison. Europa Editions. 2016.ISBN 9781609453060.