Only a decade after the end of the Cold War resulting from the fall of the Eastern Block's Iron walls, the world experienced one of the deadliest and evil forces emerging from the depths of the darkness and medieval thoughts under Califah Rule in September 11, 2001.
By far the worst news was that, these forces, their leaders and main operatives, either lived within us in the West or in some cases associated with us in common crisis and events such as freeing Afghanistan from occupation of the Communist Russian.
The evil forces pretended to be thinking, believing in what we all believe, respecting the civilized world and even fighting for the same cause or maybe we liked to think that way. Maybe the reality of the mistake and unjust occupation of Afghanistan by the Communist Russia in 1979 in support of his Ally Hafizullah Amin's government resulted in the West's blindfolded reaction in supporting the medieval Taliban forces in Afghanistan or uncalculated and unwise ignorance of these potential destructive forces, due to our common political interests against Communist Russia.
The horror began when these Evil and Destructive Forces of the Dark Age's gained power and turned their real faces against the civilized world in Sept. 11, 2001.
The world reactively responded at a very high cost by Allied Forces' occupation of Afghanistan to achieve not even a total victory.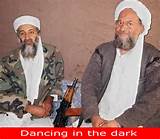 Also toppling Saddam Hussein the dictator of Iraq was an even greater indication of the still ongoing uncalculated overlooking towards the rising danger to Democracy, Freedom, civilization, human achievements, which were emerging from the ruins of these two wars.
This overlooking policy resulted in the world now days experiencing daily horrors not in the mountains of northern Afghanistan or only in the Middle East but on our streets around the world from Paris, Brussels, Copenhagen… in Europe to New York, Toronto, Boston… in America, Sydney in Australia, Morocco in Africa, in Asia and indiscriminately in all continents on nearly daily basis.
The map blow provided by the British Daily Telegraph online newspaper, clearly shows the extent of the threats and terrorism around the Globe and its rising from 0-4 in 2000 to 4860 deaths in 2011.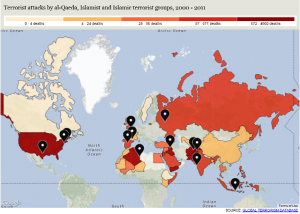 The particularity of these evil forces in very short assessment is:
1. All have Islamist ideology.
2. All have declared Caliph Rule through a charismatic Leader.
3. All are Cultic organizations and use Cultic tactics for preparation and manipulation of their members.
4. All utilize terror and violence through bombing and massacre that targets innocent people and citizens.
5. All are very well founded.
6. All are very well organized.
7. Are not Governments confined to a territory or Armies at the borders of the countries, but they are everywhere and targeted ordinary innocent citizens.
8. Are indiscriminate in killing Muslims, Christians, Jews, women and children..
9. Recently having gained some advances trying to get hold of territories to launch their Caliph rule and further their terror rule to around the world.
Since these evil forces deceitfully relate themselves to Islam, let me mention to a well-known saying related to Prophet Mohammad,
"A Wiseman is not bitten twice from the same hole."
Therefore, the civilized world must be proactive rather than reactive towards this destructive phenomenon.
But the world political symptoms indicate that the mother Earth is still waiting for more and far greater disastrous events, with its origin in the oil rich Middle East, with the same scenario repeating in dealing with one of the same terrorist phenomenons in the Middle East called PMOI or MEK. Where its co-leader Maryam Rajavi while Masoud Rajavi its leader is in hiding, appears well dressed with backing of some paid ex politicians pretending to support democracy and freedom and is also allowed to address some political institutions in the civilized world.
Some obvious grounds for it are not far from realization, such as need to put pressure on Iranian Regime,
a) Violation of human rights,
b) Coming to terms in the nuclear negotiations,
c) Appeasing the war mongering tendencies in the Middle East,
d) Even due to some governments' interests in the region and their lobbies in the United States,
e) Some may not want a strong Iran and prefer a divided country,
f) Is very highly paid by PMOI,
g) Not having enough background and insight knowledge about PMOI
In this regards, I would like to warn on the danger of PMOI due to public, moral, social, human, individual and clear conscience based on the insight knowledge as a former high ranking member (for nearly 4 decades) of Mujahidin-e Khalq Iran (MEK) also known as Peoples Mujahidin of Iran (PMOI), which also operates under the name of National Council of Resistance of Iran (NCRI) where I have also been its member for nearly two decades. I decided to leave PMOI after Masoud and Maryam Rajavi openly and jubilantly supported the Sept. 11, 2001 terrorist attack in a PMOI's General Assembly in Iraq.
While Rajavi's pitied themselves why PMOI could not do it to gain the upper hand and called the attack a blow to Satanic Forces by the forces of the God. Rajavis trying to make even with Bin Laden added "we are still more revolutionary than Al-Qaeda since we have been able to divorce the families but they have not." Referring to their cultic utilization of the members, meaning if we are able to be successful in mind manipulation to this extent, convincing cult members to commit suicidal attack is not a difficult task to peruse.
Rajavis later demonstrated this terrorist brutality for the first time in the Europe, in retaliation to the Maryam Rajavi's arrest by the French Judiciary for nine charges against her (including Terrorism, Human Trafficking, Money Laundry…) in June 17, 2003 by ordering members of her cult to commit suicide by self-immolation on the streets of Europe and Canada. Where a few were burned to death.
The only reason Maryam Rajavi's retaliation was by ordering the cult members to execute the suicide attack targeting her own members rather than European Citizens, was that she was still in the West and at the reach by Law. Otherwise the orders would have been executed on European Citizens, something that we had witnessed in Iran either in the Shah's or current regime's time by committing suicidal attacks in the mosques and bombings of the political parties, street assassinations of Americans, or government official…in the last four decades of PMOI's existence as a terrorist organization.
They supported occupation of American Embassy in Iran which was openly reflected in their official newspaper "Mojahed" together for calling for destroying American Imperialism. Their official newspapers all full of their terrorist, anti-western, provocations.
Since 1979 in the Mr Rajavi in response to the question of, why MEK should talk and seek the support of Western Governments, Political Parties, Human Rights Organizations… while your teachings obviously talks against them as imperialist institutions that are established only to exploit the world, his answer has always been: "we must deceive the west about our true nature, the strategy of dealing with enemies rules to deal with them one at a time, first the home enemy then, when we have the power, comes the next enemy "Imperialist-Devourer West" that would be our glorious revolution and victory, so tactically we must take liberal positions to deceive and neutralize the next coming enemies. We must not only work hard to prevent our enemies from uniting against us, but we must even utilize one (the West) to defeat the other (our home enemy)."
PMOI's "as Rajavi puts it" most glorious and precious goal and victory, is to destroy the ongoing democracy and freedom and human rights achievements with all its institutions. It has been the most fundamental and deeply rooted teachings of Masoud Rajavi and Maryam Rajavi in PMOI from the day one.
It is written in all their publications before being forced to exile in France, and recently in a voice video message to his followers via YouTube, Rajavi made a will "It is my will that all our opponents must be punished, the days of the oppressed against the oppressors will arrive. This United Nations and UNAMI are all working for the ruling governments, the human rights issues are worthless words and are only good for composition, the Human Rights will be written with blood of the oppressed. The demarcation between us and the Reactionaries, the Colonialists, those working or in line with them and helping them, is with blood. Our diplomatic works and endeavors are all for preparation for the fire of the war. USA and United Nations Assistance Mission for Iraq-UNAMI's hands are in the hands of the Iranian Regime…".  "…As we are working with the UN and USA and human rights organizations but we don't believe in what they are doing and we know that we have to deal with our problems ourselves and that is through war and blood and revolution as there is a sea of blood between us and the enemy…let me repeat if we are working with UN and USA this is only because we want to prepare for the war…".
PMOI characteristics according to the experts such as RAND report is ((Prior to its exile, the MeK was the most popular dissident group in Iran. It lost much of its popularity due to its willingness to fight with Saddam the instigator of the destructive Iran-Iraq War and to kill Iranian conscripts. It also lost much of its popularity due to Masoud Rajavi's transformation of the MeK from an activist dissident group into an inward-looking cult. Rajavi instituted what he termed an "ideological revolution" in 1985, which, over time, imbued the MeK with many of the typical characteristics of a cult, such as authoritarian control, confiscation of assets, sexual control (including mandatory divorce and celibacy), emotional isolation, forced labor, sleep deprivation, physical abuse, and limited exit options.)) Rand report also listed their terrorist activities.
PMOI shows all the characteristics of ISIS, Taliban, Boko Harm terrorist Cults since they:
1. Have Islamic Ideology
2. Masoud Rajavi has declared himself the Caliph of all the Muslims
3. Uses Cults technics of mind manipulations, isolation, forced labor, humiliation, imprisonment,
4. Terrorism is their only strategy to achieve power in Iran and have long history of terror and violence against ordinary citizens.
5. Are very well founded
6. Are very well organized, they utilize the western educated people as ISIS and …
7. Are indiscriminate killers. While Masoud Rajvi ordered the killing of all dissident members from Muslim, Christian, leftist or Atheist backgrounds in his last video voice message last year to his followers.
Having said one of thousands of their facts, we need to conclude that the fight against terrorism can only be successful if the civilized world acts proactively towards them rather than reactively. Otherwise as we witness these days confronting ISIS, BOKO Haram, and Taliban…reactively, the price will be very high and not very effective too. The world must stop them beforehand.
It is in this context that we ask the world, why Maryam Rajavi a terrorist cult leader is welcomed in different European parliaments and institutions? Why she enjoys the cooperation of some of Paid former officials of USA, Spanish, French, German, English…while she openly supports ISIS in Iraq as freedom fighters and call them revolutionary patriotic tribes of Iraq? Why PMOI's high ranking members such as Mr. Mohammad (Hamid) Moshiri work under cover of false names in Europe , also Mr. Javad Dabiran and Mr. Said Yeganeh, in Germany under cover of false organizations.
as a former member of the terrorist cult organization of PMOI, I warn against the future Iranian ISIS.
This is a historic call as a witness that we have done our part to tell and save the world against one of the worst and most dangerous terrorist forces that has the potential of not only making but using Atomic bomb against the civilized world when reached power.
No to Terrorism and Cult Association
Arshad