American Enterprise Institute
Dear Mr. John R. Bolton
As a student in UK since 1974, I have been interested in politics. I have also known you as a high ranking political figure in the US Political sphere since late 1980s.
Apart from your involvement in quite a few important positions in different US administrations, you have been one of the major advocators of war against the ruling Mullahs in Iran.
The latter is of my interest which I have also spent most of my life in the last 4 decades fighting with them as one of the brutal contemporary religious dictatorships around.
You were even my favorite politician while serving as Undersecretary of State for Arms Control and International Security. I used to think that the outcome of your endeavor in your job would bring about peace and security for the whole world.
I have been involved in politics since 1976 since I was a student in UK. I was recruited as a member of Mujahidin-e Khaliq Iran Org. (Mek) since then and worked with them until recently that I used the opportunity of US army presence in Iraq to defect the Mek. Apart from my nearly 4 decades of high ranking membership in Mek, I was also member of the National Council of Resistance of Iran for nearly two decades.
https://www.youtube.com/watch?v=wkloKD3a-sc
https://www.youtube.com/watch?v=Q6WyVNtnlWc
Dear Sir,
Your political stand against the Iranian Regime is not my grave concern. Because when the outlaw is a government and confined to a territory the world knows who is facing with. Then one can take actions and hold them responsible for their actions, by political or economic sanctions… especially when that government is a pragmatic government of the Mullahs that their first and last concern is Money and the Power to keep it. I also think that we Iranians deserve a better government than the present one.
But when it comes to supporting organizations such as Mek which I have served as a high ranking member, I would be gravely concerned that is when you support your own enemy, and actually the enemy of the Humanity.
Dear Mr. Bolton,
Did you know that Masoud Rajavi has declared himself as the Calipha of the Muslims on the earth as the leader of the ISIS has done? Based on that he declared himself the owner of whatever exists on the earth, consequently divorcing all the Mek members and slept with all women members as his wives? If in doubt please ask Maryam Rajavi to officially deny the above fact. She won't do it because she has prepared the women to sleep with her husband so they cannot leave their organization. She won't do it, since it is done deceivingly, that sleeping with the Imam, or Calipha is the outmost freedom and liberation for women…
Did you know that Masoud Rajavi was trained in Palestine, and is a permanent member of Al-Fatah.
Did you know that Masoud Rajavi fully supported the seizure of US Embassy in Tehran?
Rajavi in its newspaper Mojahed November 6, 1979 below, Wrote:
Title; what have we learned from the American spy nest seizure? …
Calling the seizure "the heroic action of our students…" calling for an all-out struggle against "the Great Satan, Imperialism…".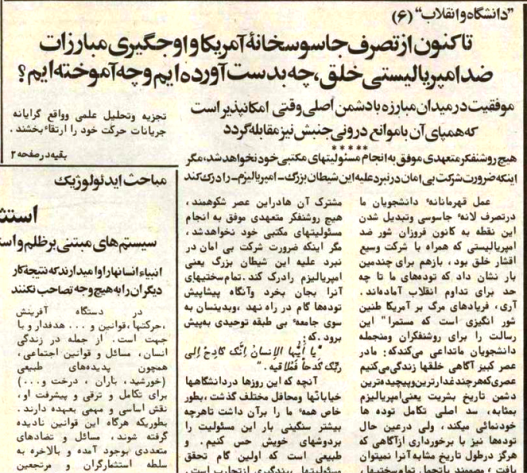 Did you know that Rajavi opposed the Mullahs' Regime because he thought that he himself was the representative of the Allah on the Earth rather than the Khomeini? And Khomeini has stolen this position from him?
Did you know that Rajavi went against the Mullahs just because he thought the Mullahs will pave the way for American Imperialism's return to Iran?
Dear Sir
Did you know that the strategy of the Masoud and Maryam Rajavi is to bring down the American Imperialism as a corrupt system and culture? To do so the strategy was set to pretend to be a liberal organization, with liberal stands on global issues such as Human Rights, Women's Right…to deceive the world until they reach power to go against the West as ISIS is putting into practice?
Even in his last voice message to members in Liberty Camp in Iraq November 2014, with reference to Americans said: the days of the oppressed will arrive when we revenge all those who pave the way and were involved in killing our members in Camp Ashraf. (It can be watched on YouTube https://www.youtube.com/watch?v=UXtqvzcdtvw ). He also asked his members to kill all defected members.
Did you know that Masoud and Maryam Rajavi arrested, jailed, and tortured its decedent members? Did you know that Mek even sentenced them to death?
Did you know that Rajavi handed over Mek decedent members to Saddam Hossein to be silenced, and Saddam exchanged them with the Mullah's regime as POWs?
Did you know that Masoud and Maryam Rajavi hired about 2000 young Iraqis and trained them militarily and ideologically and sent them throughout Iraq to collect information about coalition forces movements resulting in many deathly attacks on them, also to destabilize Iraq in order to topple the Iraqi government, so the Ex-Baath party leaders active in ISIS could take power in Iraq again, giving Masoud and Maryam Rajavi a free hand as before at the Saddam's time? Mek officers who have been involved in training the 2000 terrorists are present for testimony.
Did you know that Masoud and Maryam Rajavi (the leader of the Mek) were responsible for killing your fellow Americans in Iran at the Shah's time?
Dear Sir,
whatever your motivations against the Mullahs is one issue, but supporting the enemy of humanity, the future ISIS, that are not only far more determined to make a nuclear bomb than the Mullahs, but will definitely use it, is an issue that can't be overlooked.
Please don't let yourself to be deceived by Mek Cult leaders such a Maryam Rajavi.
Sincerely Yours
Davood B. Arshad
Peoples Mujahidin Khalq Iran Org. (Splitted from Rajavi's Cult)
Info@ nototerrorism-cults.com
Germany